Coming in 2015: Aurora
Submitted by

Kimon
Let's kick off 2015 with a KSR-inspired video: Wanderers, by Erik Wernquist. Make sure to watch full screen!
It is really rare to find an optimistic and human-centered visual depiction of space exploration -- short films and videos are usually centered around either technological gimmicks or on something going tragically wrong, instead of the pure adventure and awesomeness of humanity expanding beyond the terrestrial frontier. For anyone that has read KSR (the Mars books and 2312 in particular), this really looks like it could be...a trailer for an on-screen adaptation of his books! According to Vernquist:
The film is a vision of our humanity's future expansion into the Solar System. Although admittedly speculative, the visuals in the film are all based on scientific ideas and concepts of what our future in space might look like, if it ever happens. All the locations depicted in the film are digital recreations of actual places in the Solar System, built from real photos and map data where available. [...] As some may notice I have borrowed ideas and concepts from science fiction authors such as Kim Stanley Robinson and Arthur C. Clarke, just to name a few.
---
Coming in 2015 is Kim Stanley Robinson's next novel: AURORA!
After taking us 300 years in the future with 2312 and 30,000 years in the past with Shaman, KSR extends further in the future than he's ever been with the generation ship-themed Aurora!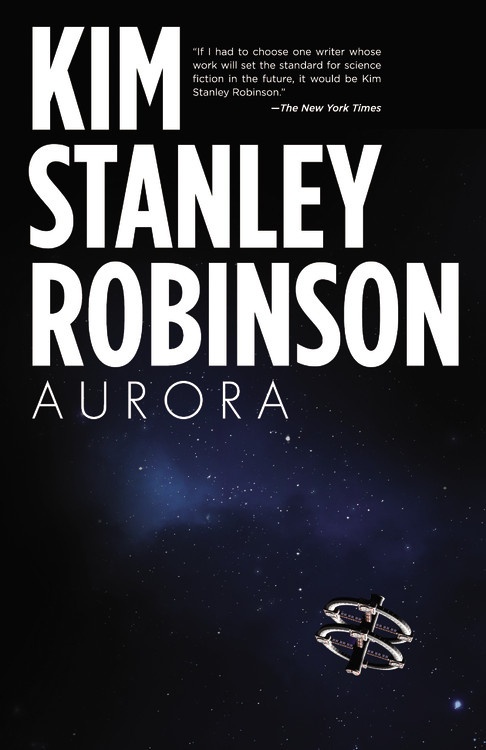 It will be published in May 2015 (hardcover, digital, audiobook). 480 pages. Book description:
A major new novel from one of science fiction's most powerful voices, AURORA tells the incredible story of our first voyage beyond the solar system.
Brilliantly imagined and beautifully told, it is the work of a writer at the height of his powers.
Our voyage from Earth began generations ago.
Now, we approach our destination.
A new home.
AURORA.
The cover was revealed by Orbit Books, but click the above image for higher quality.
Also coming in 2015:
Aurora book promo tour;
...and the inevitable big debate Aurora is going to stir in the science and science fiction circles;
the publication of a Science in the Capital trilogy edit/omnibus;
a KSR / Marina Abramovic event;
some KSR trips outside the USA;
possible developments around a Red Mars TV series;
the announcement of KSR's next novel!