Down And Out In The Year 2000
Image: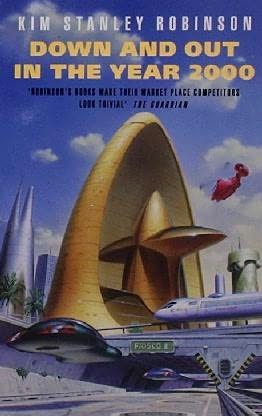 Down And Out In The Year 2000 is a collection of previously published short and novella-length fiction works by Kim Stanley Robinson, published in 1992 by Grafton in the UK. It contains A Short, Sharp Shock (previously published as a novel), the novella The Blind Geometer and 9 stories from the short story collection Remaking History (1991). Its contents are:
A Short, Sharp Shock
The Blind Geometer
The Lunatics
A Transect
Down and Out in the Year 2000
Our Town
The Return from Rainbow Bridge
The Translator
Glacier
Before I Wake
Zürich
The collection takes its title from the short story, which may be a reference to George Orwell's Down and Out in Paris and London (1933). Orwell's work described the poverty in two big prosperous cities; similarly, the short story depicts poverty and destituted neighborhoods in the futuristic year 2000. Similarly, Cory Doctorow later published a novel called Down and Out in the Magic Kingdom (2003).
Resources