Image: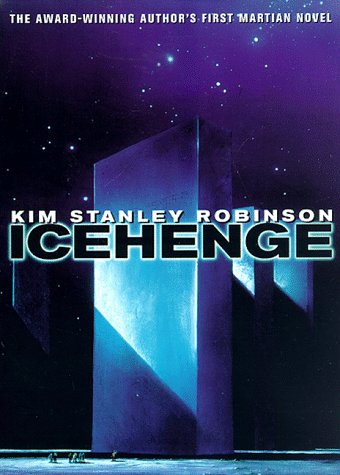 Icehenge is Kim Stanley Robinson's second novel, published in the same year as The Wild Shore, 1984. The novel consists of three stories connected through time, two of which were published before and one written for the novel. The two previously published stories were:
To Leave A Mark, first published in 1982, which bears great similarities with later works on the Mars trilogy
On The North Pole Of Pluto, first published in 1980
Human civilization has to cope with space travel, memory loss brought about by a life span expanded to a thousand years, and historical revisionism.
The novel consists of three parts bearing the names of the narrators and the date of the events:
Emma Weil, 2248 A.D.
Hjalmar Nederland, 2547 A.D.
Edmond Doya, 2610 A.D.
Publication History
Ace Books ISBN 0441358543, 1984
Futura Orbit ISBN 0708881661, December 1985
MacDonald ISBN 0356124029, October 1986
Denoël ISBN 2207304256, as Les Menhirs De Glace, (French translation) September 1986
Editrice Nord ISBN 8842901717, (Italian translation) 1986
Bastei-Lübbe ISBN 3404240928, as Die Eisigen Säulen Des Pluto, (German translation) 1987
Tor Books ISBN 0812502671, September 1990
Voyager ISBN 0006482554, September 1997
Zagrebačka naklada ISBN 9536234262, as Ledeni Hram, (Croatian translation) 1997
Лира Принт ISBN 9548610183, as Айсхендж, (Bulgarian translation) 1997
Tor Orb ISBN 0312866097, July 1998
漓江出版社 ISBN 7540726105, as 冰柱之谜, (Chinese translation) 2001
Gallimard ISBN 2070313042, as Les Menhirs De Glace, (French translation) 2003
Minotauro ISBN 8445074954, as Icehenge: La Memoria Perdida, (Spanish translation) March 2004
Voyager ISBN 9780007336746, August 2009
Reviews
Resources