Image: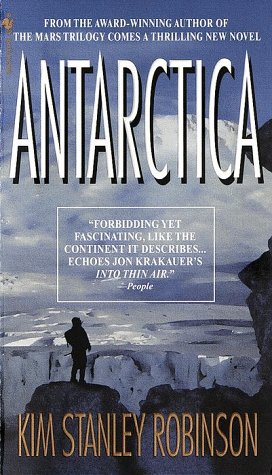 Antarctica is Robinson's first novel published after the success of the Mars trilogy, published in 1997. It shares many themes with the Mars trilogy, such as environmental awareness, the exploitation of natural resources, feral living style and descriptions of landscapes with conditions as extreme as those in the Mars novels -- because of the similarity in the themes of both works, Antarctica has been called "White Mars" by some.
It describes the adventures of a US Senator envoyé in Antarctica, who discovers an entire Antarctic culture fighting against the destruction of the Antarctic landscape with "ecotages" -- ecological sabotages.
It shares some characters with the Science In The Capital trilogy, such as Wade Norton and US Senator Phil Chase.
Antarctica was written as a result of Robinson's experience in the continent itself during a visit organized by the "Artists & Writers" program of the National Science Foundation in 1995.
Summary
(to develop)
Characters
Wade Norton
Phil Chase
Themes
(to develop)
Quotes
Language is but a huge set of false analogies. There has to be a better way to make a point.
Publication History
Voyager (UK), September 1997
Voyager (Australia & NZ), September 1997
Presses de la Cité, as S.O.S. Antarctica, (French translation) June 1998
Bantam Spectra (USA), July 1998
Easton Press (USA), July 1998
Bantam/Science Fiction Book Club, (USA) September 1998
Voyager, (UK) paperback, September 1998
Libre Expression, as S.O.S. Antarctica, (Canada, French translation) February 1999
Bantam (USA) paperback, July 1999
Prószyński i S-ka, as Antarktyka, (Polish translation) September 1999
Cicero, as Antarktis, (Danish translation) October 1999
Minotauro, as Antártida, (Spanish translation) November 1999
Otava, as Antarktika, (Finnish translation) 2000
Heyne, as Antarktika, (German translation) 2001
講談社, as 南極大陸 (Japanese translation, 2 volumes) December 2003
Voyager (UK) paperback, October 2008
Bantam Spectra (USA) eBook, July 2010
Essays and Criticism
Introduction, Robert Silverberg, Easton Press, 1997
Scripts Deep Enough: Kim Stanley Robinson's Antarctica, Paul Voermans, The New York Review of Science Fiction #125, 1999
"The moment is here ... and it's important": State, Agency, and Dystopia in Kim Stanley Robinson's Antarctica and Ursula K. Le Guin's The Telling, Tom Moylan, in Dark Horizons: Science Fiction and the Dystopian Imagination, Routledge, 2003
Unfinished business: subjectivity and supervision, Bill Green, Higher Education Research & Development, Volume 24, Issue 2, 2005
Dead Penguins in Immigrant Pilchard Scandal: Telling Stories About "the Environment" in Antarctica, Sherryl Vint and Mark Bould, in Kim Stanley Robinson Maps the Unimaginable, McFarland, 2009
Antarctica in Fiction: Imaginative Narratives of the Far South, Elizabeth Leane, Cambridge University Press, 2012
Reviews
Resources