The Best Of Kim Stanley Robinson
Image: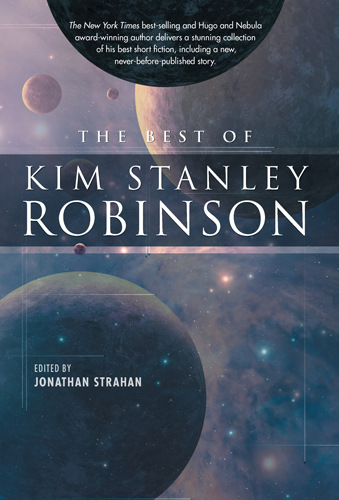 The Best Of Kim Stanley Robinson is a collection of short stories written by Robinson that was published, in hardcover, in July 2010. The publisher is Night Shade Books.
It contains 23 stories, including award-winning "The Blind Geometer" and "Black Air", and the previously unpublished story "The Timpanist of the Berlin Philharmonic, 1942". It is published by Night Shade Books.
Robinson had previously announced his desire to have some of his short stories republished, as the original editions and previous collections are now difficult to find. As a result, this collection includes stories from the entirety of Robinson's career, from the earliest (The Planet On The Table) to the most recent (The Martians and uncollected).
This collection is edited by Jonathan Strahan, editor and reviewer who frequently works on science fiction. During the editing stage, it was estimated to total 160,000 words and 300 pages, which is about as long as The Martians.
Night Shade Books published the following title description:
Adventurers, scientists, artists, workers, and visionaries--these are the men and women you will encounter in the short fiction of Kim Stanley Robinson. In settings ranging from the sunken ruins of Venice to the upper reaches of the Himalayas to the terraformed surface of Mars itself, and through themes of environmental sustainability, social justice, personal responsibility, sports, adventure and fun, Robinson's protagonists explore a world which stands in sharp contrast to many of the traditional locales and mores of science fiction, presenting instead a world in which Utopia rests within our grasp.

From Kim Stanley Robinson, award-winning author of the Mars Trilogy (Red Mars, Green Mars, Blue Mars), the Three Californias Trilogy (The Wild Shore, The Gold Coast, Pacific Edge), the Science in the Capital series (Forty Signs of Rain, Fifty Degrees Below, Sixty Days and Counting), The Martians, and The Years of Rice and Salt, comes The Best of Kim Stanley Robinson. These twenty-two stories, including the Nebula Award-winning "The Blind Geometer," and World Fantasy Award winner "Black Air" represent The Best of Kim Stanley Robinson.
Part of the book available online by Baen Ebooks.
Contents
The contents were chosen by Strahan and Robinson by September 2009 (Jonathan Strahan's blog - update on the collection, Sep-06-2009).
The volume contains stories and novellas ordered chronologically in their time of writing, and an afterword by Robinson. It includes 23 stories: 5 from The Planet On The Table, the novella "The Blind Geometer", one novella from Escape From Kathmandu, 10 from Remaking History, 3 from The Martians, and 3 previously uncollected stories (including one never before published). Robinson also provided short notes on each of the stories, and an afterword as well.
The contents are:
Venice Drowned
Black Air
Ridge Running
The Lucky Strike
Our Town
The Blind Geometer (previously uncollected)
Mother Goddess Of The World
Glacier
Remaking History
The Lunatics
Before I Wake
The Translator
Zurich
A History Of The Twentieth Century, With Illustrations
A Sensitive Dependence On Initial Conditions
Muir On Shasta
Vinland The Dream
Arthur Sternbach Brings The Curveball To Mars
Sexual Dimorphism
Discovering Life
How Science Saved The World (previously uncollected)
Prometheus Unbound, At Last (previously uncollected)
The Timpanist Of The Berlin Philharmonic, 1942 (previously unpublished)
Afterword by Kim Stanley Robinson
Publication History
Night Shade Books, hardcover, July 2010
Night Shade Books, eBook, July 2010
Night Shade Books, paperback, December 2010
Audible, audio book download, February 2014
Reviews
Resources