Image: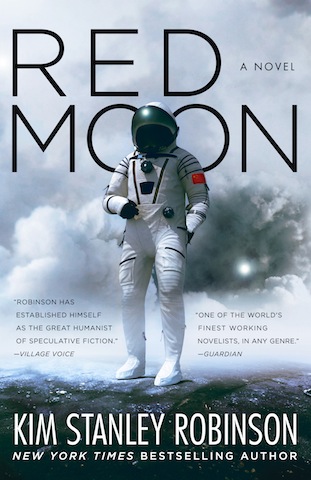 "Red Moon" is Kim Stanley Robinson's ninteenth novel, published in October 2018, by Orbit.
It covers, among other things, the colonization of the moon in the 21st century, with China having settled the South Pole and an alliance of other countries having settled the North Pole. Social changes inside China, US-China relations, spying and surveillance and artificial intelligence are other themes of the novel.
The official synopsis reads:
Red Moon is a magnificent novel of space exploration and political intrigue from New York Times bestselling author Kim Stanley Robinson.

It is twenty-five years since China established the first colony on the moon, and the lives of three people are about to collide.

American Fred Fredericks is making his first trip there, his purpose to install a communications system for China's Lunar Science Foundation. But hours after his arrival he witnesses a murder and is forced into hiding.

It is also the first visit to the moon for celebrity travel reporter Ta Shu. He has contacts and influence, but he too will find that the moon can be a perilous place for any traveler.

Finally, there is Chan Qi. Daughter of the Minister of Finance, and without doubt a person of interest to those in power. She is on the moon for reasons of her own, but when she attempts to return home to China, in secret, the events that unfold will change everything - on the moon, and on Earth.
The cover illustration was unveiled in March 2018.
Excerpts:
KSR presents the book for Orbit:
Structure
Limited third person narrative. Chapters alternate between the principal narrative (Fred and Qi, and at times some additional characters; 20 chapters) and two additional sets of chapters (Ta Shu, 8 chapters; and the AI, 14 chapters). All chapters have titles in pinyin Mandarin Chinese followed by their English translation; several titles are famous quotes from Chinese historical figures and are noted as such.
Characters
Main characters
Frederick J. Fredericks ("Fred"): US citizen, technical officer for the Swiss company Swiss Quantum Works (quantum computer engineer); lone introvert
Chan Qi: Chinese revolutionary figure, daughter of prominent Chinese official
Ta Shu: famous Chinese videoblogger and traveller, poet and Feng Shui adept
The Analyst: Chinese analyst at the Artificial Intelligence Strategic Advisory Committee
Rest of characters in order of appearance
Chang Yazu: chief administrator of the Chinese Lunar Authority
Li Bingwen: Party secretary of the Chinese Lunar Authority
Valerie Tong: assistant at the American consulate of the Chinese Lunar Authority
John Semple: station chief at the American consulate of the Chinese Lunar Authority
Jiang Jianguo: inspector, Chinese Lunar Authority
(to complete)
Summary
(to complete)
Analysis
The novel takes place in 2047, at the end of the 50-year "one country, two systems" period for Hong Kong and Macau following the British colonial period, when Hong Kong is expected to be fully integrated into the People's Republic of China.
Common characters with Antarctica: Ta Shu, Valerie
Common themes with New York 2140: "Chinese equivalent" to the protest revolution, Householders' Union
Chinese chapter names and in the text
(to complete)
Reviews