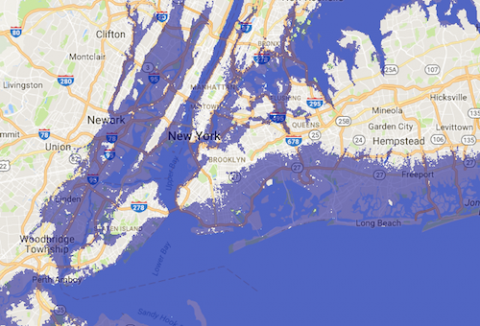 (Top image of New York City with 13 meters sea level rise, a bit less than in New York 2140, by FireTree.net)
Hurricanes, floods, fires, this has become part of a reality many have to face in the year 2017. The vulnerability of human infrastructure to natural events has become an evidence that has been violently brought home to our minds, and suddenly human affairs become part of Earth's environment again. All these issues are familiar to the reader of KSR's works, with extreme climate events being key events in many KSR novels: Blue Mars, Forty Signs of Rain/Green Earth, and most recently in his latest novel New York 2140.
Stockholm University's Resilience Center defines resilience as:
Resilience is the capacity of a system, be it an individual, a forest, a city or an economy, to deal with change and continue to develop. It is about how humans and nature can use shocks and disturbances like a financial crisis or climate change to spur renewal and innovative thinking.
...and this fits New York 2140 to a tee!
First, a shout out to Orbit that presently manage the KSR Facebook page (like!) -- and also to the fan-essentially-self-managed KSR Facebook group that's been running since 2009 (join!).
Here comes the usual list of links of everything KSR since the last update in June:
KSR presented his latest novel New York 2140 at the heart of the action, in the iconic Strand bookstore, located in Broadway, Manhattan. See the video of the May event for Science Friday Book Club with host Ira Flatow here.
KSR discusses the bedrock of science and economics in New York 2140, his writing process for the novel, and of course, the Anthropocene in this great audio interview for Generation Anthropocene.
While in Barcelona in March this year, KSR spoke to the Spanish Jot Down magazine. The discussion ranged from his career and the Mars trilogy to progressive taxation, the EPA under Trump and the basque Mondragon system he often mentions, to mysticism, space exploration and art. A really complete interview! (Spanish version here) Some excerpts:
After World War II there was quite extreme progressive taxation, even in the US under Eisenhower, a Republican president. After you made four hundred thousand dollars a year, that in our days will be like four million dollars a year, the tax rate was 91%. So essentially they capped the wealth, and you could not be a multibillionaire like we've got today, because everything you made after a certain amount went to support government programs. And you can advocate these kind of things without being a complete communist or a completely utopian person like a martian. You can talk about policies that used to be enacted and could be enacted again, there's legal and precedent base.

Within the already existing capitalist order you have alternative orders that are legal, they don't need to be revolutionary, you don't need to get into the chaos of Barcelona 1936 where anarchists and communists were fighting against each other over how to make a completely new society… Instead you have something like Mondragon where in the already existing society there is a change coming from inside.

A lot of scientists are fairly naive and underdeveloped about what is their project. They don't have much in the way of theory. Science needs to think of itself more as a humanism and more as an utopian politics that's already enacting itself in the real world. This is what my books are trying to suggest. I'm doing what I can by telling stories about what science is, how science works and what scientists should do in terms of being political actors.

Wilderness is a nice idea, but once you alter the atmosphere and the oceans there is no wilderness anymore, all the planet is a mongrel planet, and what you want to do then is to avoid extinctions. That takes working landscapes, like farms that also support some wildlife, or zoos, or landscape enclosures. I've read about these parts of Europe that are being almost abandoned, like central Spain, central Poland, the center of the US, Montana or North Dakota… Where is not easy or economical to do agriculture, people leave for the cities, and so big places of the countryside are empty now of humans. This is extremely interesting, because we need that. It's not wilderness, but ex-human land where humans built towns or roads and abandoned them. We might have a world that includes some semi-wilderness, or empty land that is still human land or even lightly agricultural… Everything except for purity, I don't really worry about purity anymore.
The May discussion between KSR and George RR Martin at UC San Diego to support the Clarion Science Fiction Writers Workshop can be seen in its entirety here.
The April discussion at Rutgers University, where KSR presented New York 2140 and participated in a panel with Rutgers faculty on climate science, urban planning, urban agriculture and the environmental humanities can be found here.
A short written and a short audio interviews ahead of KSR's presentation at Arizona State University on "The Comedy of Coping: Alarm and Resolve in Climate Fiction" in September. Mark Stapp, director of ASU's Center for Real Estate Theory and Practice shared his expert perspective on aspects of New York 2140's future real estate: for him, Franklin Garr's financial instrument, the Intertidal Property Pricing Index, "doesn't seem far-fetched at all".
While in New York City, KSR stopped by Radio Motherboard's (Vice) studios for a podcast on NY2140, climate change, capitalism, Trump, nuclear weapons, technology, automation, and more.
This Is Zero Hour dedicated an episode to planetary revolution and immigration, and spoke to KSR and Megan Essaheb (complete podcast here, KSR video excerpt here)
New York 2140 is among the novels the New York Times looked at and asked their authors about in an article focused on climate-themed fiction, along with Paolo Bacigalupi, E.M. Forster, Jeff VanderMeer, Maja Lunde and others.
If you haven't had the opportunity to attend one of many "SF in SF" events, here is a recording of the last one with KSR, along with Cecelia Holland and Terry Bisson!
From last year's Balticon comes this discussion with Fast Forward, where KSR discusses 2312 and Aurora and his recent Robert A. Heinlein Award.
Some video excerpts of KSR's presentation at the Long Now Foundation in May 2016: how to use banks in the revolution, and looking back on his Mars trilogy.
A short video on KSR's reading habits and his library, and another one where he talks about audiobooks, in particular Shaman.
And, finally, speaking of readings: