Image: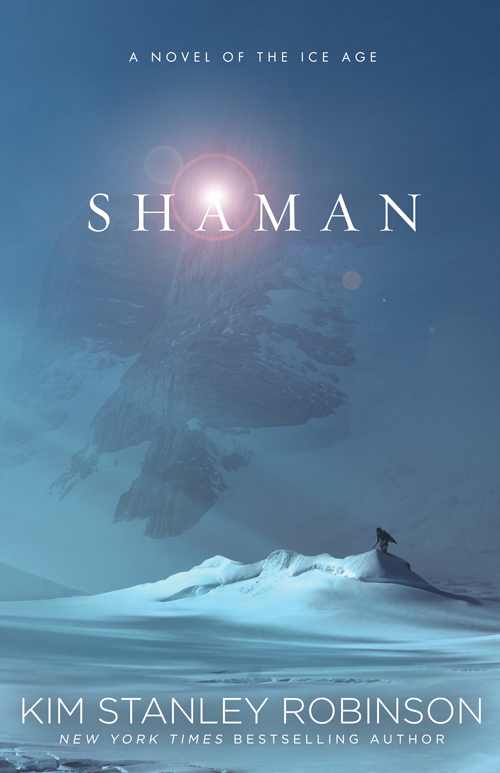 Shaman is the title for the novel by Kim Stanley Robinson published by Orbit in September 2013.
Interview Comments
The Sacramento Bee, December 16, 2012:
"I'm finishing a novel set in the ice age, about the people who made the paintings in the Chauvet-Pont-d'Arc Cave in southern France, about 32,000 years ago," he said. "I do a lot of snow camping in the Sierra, and I put my snow knowledge into it and tried to explain how we became who we are now. It's only science and archaeology that allow us to write historical fiction with any accuracy," Robinson added. "So it's kind of science fiction in a way."
Essays and Criticism
Our Greatest Political Novelist?, Tim Kreider, The New Yorker, December 13, 2013
Reviews
Science Friday (podcast), June 13, 2014
Barnes & Noble Review, Paul Di Filippo, April 8, 2014
SFmag, Crei, April 2, 2014 (in Hungarian)
Speculating on SpecFic, Shaheen Iqbal, January 13, 2014
The SF Site, D. Douglas Fratz, January 8, 2014
The Sydney Morning Herald, Colin Steele, December 22, 2013
Music of the Spheres, Bruce Irving, December 3, 2013
Exuberant Animal, Frank Forencich, November 25, 2013
Interzone #249, Duncan Lunan, November/December 2013 (in print)
Mail & Guardian, Gwen Ansell, November 8, 2013
Historical Novel Society, Barry Webb, November 2013
Fantascienza.com, Alberto Priora, October 29, 2013 (in Italian)
io9, Michael Ann Dobbs, October 25, 2013
The Guardian, Josh Lacey, October 9, 2013
Val's Random Comments, Rob Weber, October 4, 2013
The Lost Entwife, Lydia Presley, October 4, 2013
Odd Engine, Peter Snede, September 30, 2013
Irish Examiner, Val Nolan, September 28, 2013
SFcrowsnest, Kelly Jensen, September 25, 2013
Shelf Awareness, Lee E. Cart, September 24, 2013
Chicago Tribune, Gary K. Wolfe, September 22, 2013
The Financial Times, James Lovegrove, September 20, 2013
SF Signal, John DeNardo, September 19, 2013
The Tattooed Book, Cara Fielder, September 18, 2013
Nerds of a Feather, Flock Together The G, September 17, 2013
Arcfinity, Adam Roberts, September 13, 2013
The Stardust Reader, Isabel, September 13, 2013
Colorado Springs Independent, Kel Munger, September 11, 2013
Chicks Dig Books, Jen C., September 8, 2013
tor.com, Niall Alexander, September 3, 2013
Locus, Gary K. Wolfe, September 2013 (in print)
Locus, Cecelia Holland, September 2013 (also in print)
NPR, Alan Cheuse, August 28, 2013
Forbidden Planet, Malachy Coney, August 7, 2013
Publisher's Weekly, July 22, 2013
Kirkus Reviews, May 15, 2013
Resources