The long-delayed COP26 edition
Submitted by

Kimon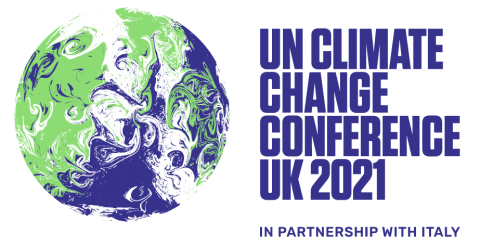 It is one of those rare moments where fiction meets fact. The Ministry for the Future -- among the many things it does -- takes a close look at the mechanics of policy action to mitigate and adapt to climate change, in particular the international aspects of this global problem. The UNFCCC and its Conventions of Parties (COPs) are explicitly part of the setting and plot of the book, with the titular Ministry being a result of a COP and the book drawing to a close with a COP set some 30 years in the future. It was only fitting then that KSR went to a COP to talk about his novel and its ideas to push for a better world on this global stage!
Before going, KSR wrote his column at Bloomberg Green on Why COP26 Invited a Science Fiction Writer
If the biggest United Nations climate meetings are, as someone once described them to me, a combination of diplomacy, trade show, and circus, then presumably I'll be part of the circus at COP26. Like one of the clowns, which sounds about right. The court jester often says things people need to hear, from angles no one else would think of. Those in power listen for amusement and crazy insight.
The COP summit itself was preceded by many events, several were done remotely, such as the Net Zero Festival organized by Business Green, in which KSR spoke about A climate plan for a world in flames. Video available:
Another event was organized by klimafakten and Deutsche Welle: KSR in discussion with IPCC scientist Fredi Otto: Climate science meets climate science fiction. See also the report at DW: Why even climate change needs a good narrative and the video of the event itself on YouTube.
While in Scotland, KSR visited Glasgow Memorial Chapel at an event organized by Glasgow's Centre for Fantasy and the Fantastic. The video of the event is on YouTube. See also reflections on the event.
Another UK event, Bristol Ideas' Festiival of the Future City, where KSR spoke of What Do We Do Now to Protect Future Generations? The recording is also on YouTube. See also the introduction by Cheryl Morgan.
The COP itself took place in Glasgow, October 31 to November 12. In a COP, typically, there's the actual climate negotiations part restricted to the actual country representatives, there's the national pavilions area which is a bit like a tourism or industry trade fair, and there's the side events with all sorts of speakers. Covid resulted in many events being simultaneously broadcast to the world. KSR was given a red pass by the UK Government, which allowed him to also visit the neotiations area -- but no video of that exists, as could be expected.
One of the events was The New York Times' ClimateHub, where KSR was one of many panelists, from UNHCR and NGOs to academics and filmmakers: Hearts and Minds: Storytelling and Climate Change. See the video on YouTube.
Another event was the Futures Lab, with KSR, Sandrine Dixson-Declève (The Club of Rome Co-President) and others: Transformational Economics meets Transformational Leadership (video included).
KSR was also part of the TED Countdown events, together with other artists, activits or experts. Session 3 can be watched on YouTube (KSR from 27:00).
KSR was at an event with documentary filmmaker Eva Orner organized by Bloomberg Green, on The Power of Storytelling. The video of the event can be seen on Facebook (and only there, as far as I can tell), starting from 44:00.
Another big event was organized by 5x15: Arts and the Imagination. Hosted by Brian Eno and featuring the likes of Amitav Ghosh, Emtithal Mahmoud, Neil Gaiman and more artists. KSR provided the opening statement (while Eno's music played in the background) and participated in the panel. Video on YouTube.
Finally, The Economist's To a Lesser Degree podcast included an interview with KSR in its coverage of COP26 and of the history of climate negotiations: Ratcheting up - what does the outcome of COP26 mean for the planet?
There were more events -- you can check out this site's archive -- but not all put their material online.
Now, as to whether the climate summit itself was a success or a failure...well, there are reasons to be both positive and skeptical -- but beyond binaries, it was part of a process that is on-going and didn't end with COP26.
That's all for now -- but there's even more around the coverage of Ministry coming soon!